Online Ordering
Streamline your Operations and Own your Customer Data
Our feature-rich online ordering service has all the tools you need to provide a seamless, convenient, and rewarding online ordering experience for your customers, while driving growth for your restaurant.
MADE FOR RESTAURANTS
Customized Free for your Brand
Let your customers order online for takeout, curbside, delivery, catering & more. There are no contracts and zero upfront costs. Plus, your direct online ordering site is custom designed FREE to match your brand!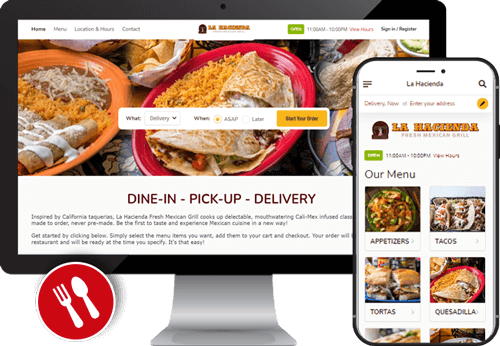 How It Works
It's as simple as 1, 2, 3
When you send us your menu we upload and update it for free!
Once your online store has been set up just tell your customers where to shop.
Once a customer has placed an order you'll be sent the request and time of pick up. It's that simple!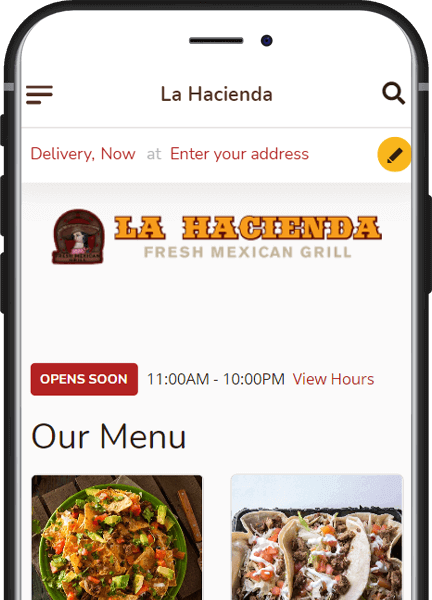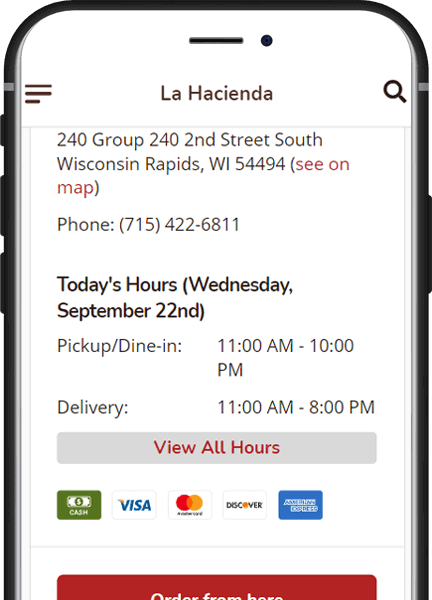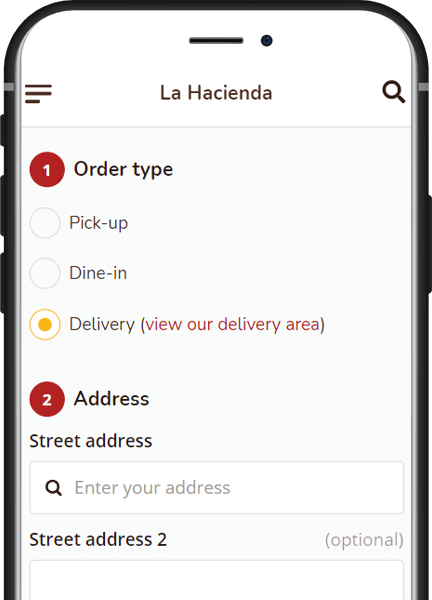 FREE for 30 days, then only 1.9% per order (you can even pass the fee onto customers)

FREE Setup (in as little as 48 hours)

Volume discounts available

NO contracts, cancel online anytime
Custom Branded for Your Restaurant
Free website design & domain name

Or, use your own domain or subdomain

Match your restaurant's brand (logo, styles, etc.)

Customize the layout and design

Add additional custom Web pages

Responsive design (desktop, tablet & mobile)

SEO friendly & submitted to top search engines

Website builder and customization tool
Unlimited menus, categories and items

Add options, extras, instructions & other modifiers

Include photos for your menu categories & items

Allow customers to search your menu

Supports multiple locations and franchisees

QR codes for easy mobile ordering

Pickup, dine-in, delivery, catering, and curbside

Create custom order types with any requirements

Offer coupons, specials and discounts

Manage inventory and availability

Control order limits and throttling

Advanced prep times and configuration

Include processing, delivery or other fees

Set your tip amounts and requirements

Add announcements or other alerts to customers

Require minimums or set certain restrictions

Automatic up-selling and cross-selling tools

Automatic text message reminders to customers

Customize delivery by radius, zip codes or zones

Manager app and Web dashboard to control & update your website and online ordering anywhere, anytime
Accept payments online and/or in-person

Customers are always paying you directly

Works with 70+ payment providers including Authorize.Net, First Data, Heartland, PayPal, Square, Stripe, Worldpay & more!

Get automated order alerts via phone, email or text message

Receive orders via email, fax, Web, text message, tablet, mobile app, Webhooks, direct to printer or Square (pick any or all!)
Works with 1,000+ services via Zapier

Shipday integration for delivery management

Base template WCAG 2.0 Level A and AA

Custom reporting and statistics

Google Analytics and Facebook integration

SSL certification / encryption

Export your customer data anytime

New features always being added

Unlimited (and usually friendly) support
FREQUENTLY ASKED QUESTIONS
HAVE QUESTIONS. WANT TO LEARN MORE?
Click below for more information!
Why should we go with 240 Group Online Ordering instead of one of those other services?
Because of our good-looks, charming personality and of course, commitment to our customers. We've been doing this since 2015 and are constantly working to make restaurants succeed online. We pride ourselves on our 90+% retention rate and are always open to new ideas from our restaurants. Plus, did we mention, we're good-looking?
How long does it take to get up and running?
Typically 2 - 5 business days depending on the complexity of your menu and how quickly you answer any questions we have. Although if it's urgent, just let us know -- we've got a pretty fast turnaround, especially if you send coffee.
Can 240 Group set up my menu for me?
Yes, definitely! And there's no cost.
Are there any limits? For example menu items, customers, orders, etc.
Nope! Add as many menu items as you want; accept as many orders as your restaurant can fill; make lots and lots of customers happy.
Do you guys deliver the food for us?
No. We provide the online ordering system so your customers can place the orders for your restaurant. Just like a phone order, how you fill them is up to you. So if you offer delivery yourself or through a 3rd party service, great. If not, no problem, you can always just use the system for pickup orders (or dine in or catering or curbside, etc.)
Do I have to sign a long-term contract that locks me in for a year or more?
Nope. 240 Group is a pay-as-you-go service. There are no long-term contracts or commitments. You simply pay month-to-month. If you cancel, you'll be billed for the current month's usage, but you won't be billed again.
How much does Online Ordering cost?
1.9% per order. There are no other fees from us (note: if you choose to integrate with some 3rd party services such as payment providers, POS or apps, then they may have their own fees.)
How does the per order fee work?
Let's say you had $1,000 in online orders in a month. We would charge your completed ACH form $19.00 at the end of the month ($1000 x 1.9%). That's it! Pretty simple. Which is a lot less than many of our competitors who will charge a heck of a lot more for that same order.
Are there fees for the apps?
We don't charge any fees to build your online ordering apps, however, Apple and Google require that you have your own developer accounts which cost $99/year and $25 respectively. So if you want an iPhone or Android app (of course, it's optional), you will need to signup and pay for developer accounts separately. Then you can add us to the account to submit your app for you.
Can I pass the fee onto my customers?
Yes, you can add a "convenience fee" (or whatever you'd like to call it) of any percentage or dollar amount onto your orders to offset 240 Group's fee if you'd like.
How do I get paid by customers?
You can either accept payment at time of pickup/delivery or use an online payment provider and accept credit cards online. With either option, customers are paying you directly (240 Group does not touch your customer's money). For online payment processing, we integrate with over 70+ payment providers including Authorize.Net, First Data, Heartland, PayPal, Square, Worldpay & many more. So you can sign up for an account with any of those and then enter in a few pieces of information into your Online Ordering dashboard and then the payment process is seamless for your customers.
Are credit card fees included in 240 Group's Online Ordering pricing?
No. We don't require that you use a payment processor and each provider has their own set fees. So if you choose to process credit cards online then there would be the typical fees from the processor you use. Otherwise, you can always handle payment at the time of pickup or delivery just like a phone-in order. That said, we do integrate with over 70 payment providers so the odds are we can work with your existing merchant provider so you can take the payments online.
Can I add photos of my menu items?
Yes, we highly recommend it! Adding photos will typically increase your order size. Of course, it's not the size of the order that matters, it's how you use it. Just kidding, it's the size.
How does my restaurant receive orders?
You can receive orders via email, fax, web, tablet, app, text message, HP ePrint, Google Cloud Print, direct to printer or POS (Note: POS integration is through a partner which has additional fees). You can pick multiple methods too. Or we can deliver them by hand, but we do require you pay for our first-class flight.
What's the printer option to receive orders?
There are two ways to receive orders by printer: The first option is to use Google Cloud Print or HP ePrint. The second option is to download and install our "Order Monitor" program on your computer (Windows 7 / 8 / 10) at your restaurant. After installing it, you just set what printer(s) you want orders sent to (it works with inkjet, laser and thermal printers). Then the program communicates directly with our servers and anytime an order comes in, it will print automatically to your printer(s).
What if my fax machine / computer / thermal printer isn't where my staff would see the order come in?
No problem. We offer automated phone calls and/or SMS text message notifications to alert your staff of new orders.
What if I have multiple locations?
Not a problem at all -- we have tools for multiple locations and franchises that make it easy to setup and manage all of your stores. Just give us a shout and we'll be glad to assist.
Can I use my own domain name or sub domain?
Yes. You could use a full domain like www.your-restaurant.com (if you plan on using your online ordering site as your main site) or a sub-domain like order.your-restaurant.com (if you already have a website and plan to link to your online ordering site).
Can I create coupons, specials or discounts for my customers?
Yes. You can create pretty much any type of coupon, special or discount you want -- $ off, % off, free items, etc. Plus you can add restrictions such as having to purchase certain items or meet certain requirements in order to use them.
Can you integrate with Point of Sale systems?
Possibly! We integrate directly with Square and work with a 3rd party service that integrates with 80+ POS companies, including: Toast, PAR Brink, Revel, Salido, Rezku, NCR Aloha, Lavu, Maitre'D, MobileBytes, Focus POS Systems, LINGA POS, Bevo POS, TouchBistro, Talech, NorthStar, OrderCounter, Xenial, Sunami POS, Heartland Restaurant, Clover, Speedline, Prism by Microworks POS, Cake from Sysco, UNION, POSist & more! And they're always adding more. Contact us to find out if yours is one they support.
What if I want to give you guys a call or need support?
Phone and email support is available to all our customers.